We speak with Lucio Feuillet, the most contemporary of the musicians of southern Colombia. He gave us his answers, honest, heartfelt, like the music he makes.
In the 2017 Lucio Feuillet changed the rules of the production of Latin / alternative genre albums.
He released "Provinciano", a video-album, an album recorded live in block, a cohesive album from beginning to end in the era of singles releases.
Reviewed as one of the best albums of the year (and the one I personally heard the most during the past year), "Provinciano" changed the rules. He put the stick too high. He created one more problem for independent musicians - as if they did not have enough - in the best sense. How can a more impactful album be made?
The album counts with the participation of its live musicians and singer-songwriter Marta Gómez, the FatsO group, Javier Andrés Mesa (Guafa Trio), Javier Ojeda (Burning Caravan) and Jairo Paz. Recorded on the stage of Mapa Teatro, the atmosphere envelops and gives an intimate solemnity to each song.
It's a huge leap from "Indicio" (2013) his previous album; his current proposal, increasingly refined, highlights his sounds of southern Colombia. The Galeras volcano is always present in its sound, the "Rs" that sound like "CHs" and the Andean music tradition confronting contemporary pop.
It was a great pleasure for us to talk to Lucio and we hope you are fortunate enough to have purchased tickets for the official release of the album. on Friday 2 of March in the Teatro Estudio, of the Teatro Mayor Julio Mario Santo Domingo (Avenida 170 Street No. 67-51 - San José de Bavaria, Bogotá) - For sale in First Row.
In one sentence, how would you describe the music you make.
South, alternative, song and Latin America! It is a music that speaks a little of what I am, what I see and what I want to look for.
What impact does it have to be born next to a volcano?
It is a constant inspiration. We can feel the power of nature daily, the fragility of life and the strong sensitivity for our environment. Also, the volcano teaches us a lot about the value of the word "respect".
What is the most important thing in a song?
Do not try to be more than that, "a song".
What do you think is your Greatest hit?
Maybe my greatest success is to decide to build a path, not based on a talent, but based on work, trade, learning, friendship and enjoyment.
How was the process of recording the album in audio and video at the same time?
It was beautiful! In these recordings I have felt the most emotional and strong moments of my life. It is very crazy, because the work of more or less two years ago, is condensed in that couple of days of recording. Adrenaline rises a lot and takes you to visit unknown states of consciousness. Incredibly all this, adding complicity, musicality and friendship, is recorded mysteriously in the final audio.
Which project are you most excited about today?
Travel with music It gives me a lot of nerves and a lot of fear. But it moves me and every time I feel that the doors open more.
I think that there, in other places, there are many songs to write and discover.
What is the most important tool of an independent artist?
The honesty.
Inspiration, luck or talent?
I would say rather: dedication work and craft.
Why creating more?
To not settle. I think that when we settle, we lose the drive to live. That is why the artistic search is eternal and only at the end of the trip can we really understand what our sound is like.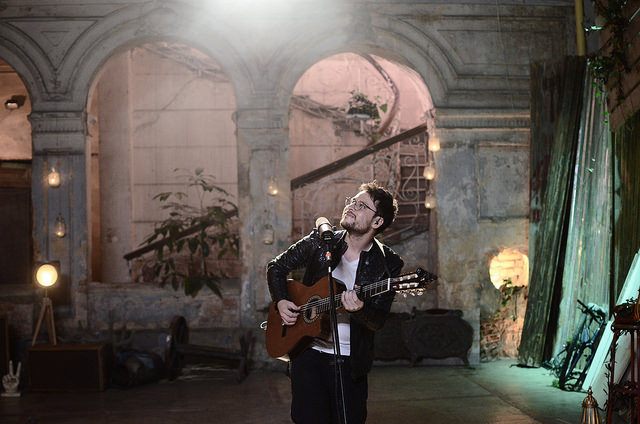 A song to awaken the volcano:
Al Galeras, many call him affectionate "The sleeping lion", the truth is that he is not asleep. He has been active always and every now and then he throws his fumaroles, small eruptions and gases. It would be necessary to make a song to him so that it remains this way, so that it does not remove its fury and is tranquilito.
A good one would be a cooing of Zully Murillo called "Dormite", not for him to fall asleep completely, but for him to relax and fall asleep.
A song for provincials:
I regret Borincano.
A song to study / work / study / work:
jajajaj The cumbia of work!
An error that only beginners commit:
No listening. Go to a concert of several artists and not listen to their peers.
A mistake that even the professionals make:
Believe to know them all.
What is a lawyer for in the arts?
mmmmm Well, when art becomes a job to live for him and for him, it serves to organize the house on legal issues. To adjust the whole hiring issue that costs us so much.
So they do not lay us down and pay us on time!
Why do not you need a lawyer in the arts?
To create.
[Editor's note: There is a rare coincidence in this question ... always.]
A phrase that is powdered gold:
Lately I heard this golden phrase:
"I'm not from here, /
but neither do you, /
not at all /
and from all sides a little "
Jorge Drexler
"Movement"
A rockstar of alternative Latin music?
Edson Velandia. "A genius".
PD: Rafa García (@Rafastomp) is the definition of "flavor" in a scenario. Lucio is fortunate to have him on his team and fortunate to be able to watch them play together.