Pat Pattison, Sheila Davis and Clay Mills are masters of composition. Without another message that: you have to be concise. All parties should point to the same place.

All elements of a song must be aligned to convey the same message. Thus the message is unstable. So be chaotic. Everything must be intertwined; Without being repetitive; Without tiring.
Composing songs makes me a better lawyer. Best teacher.
It serves as therapy to organize the head.
It must be another form of therapy; Like yoga or coloring mandalas.
Pat PattisonIs the materialization of the lyricist. His books are travel guides -"Writting better lyrics"and "Essential guide to rhyming"- mandatory reference and ritual consultation. His phonetic analyzes of English are applicable to Spanish without major traumatisms.
(FB: / @patpattison TW: / @patpattison)
Sheila Davis wrote"The craft of lyric writting"After evaluating thousands of songs of other composers; Doing a kind of institutional tutoring. There is no other place where the structures of Pop are defined more clearly and the function of each part of the song as in his book.
(I did not find anywhere a picture of Sheila Davis ... if they have one, they always welcome it)
Clay Mills Is a country songwriter. Part of the duo behind SongTown. They have A composition masterclass, With a comparison between amateurs and professionals, which is worth seeing if you are starting to compose songs. Gold dust.
(FB: / @claymillsmusic TW: / @claymills)
Class of composition with Pat Patison
Sheila Davis composition book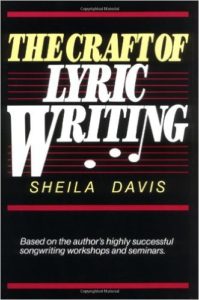 Clay Mills